Edinburgh and Cheshire only 'hotspots' for high earners outside South East
(Capital at risk - Past performance does not guarantee future results)
easyMoney research shows that Edinburgh and Cheshire are the only hotspots for high earning individuals, outside of the South East.
High-earner hotpots are places where over 1,000 individuals earning £250k+ live and there are currently 24 in the UK.
Edinburgh is the UK's financial services capital, outside of London, which has attracted many high-earning individuals to the city. It is home to the headquarters of big players in the world of banking and asset management, including Royal Bank of Scotland and Standard Life Aberdeen.
Cheshire and the 'Golden Triangle' is famously home to, Premiership footballers, celebrities including Sir Alex Ferguson, Rio Ferdinand and wealthy individuals such as Mahmud Kamani, the co-founder of fashion empire Boohoo.
London boroughs make up 15 of 24 hotspots
Of these 24 hotpots, 15 are London boroughs and the rest are areas around the South East, highlighting a North-South wealth divide. Top of this list are traditionally affluent areas such as Kensington and Chelsea, which has 1,700 high-earning individuals. Even Tower Hamlets, which is the most deprived borough in London, has 1,100 high-earning individuals.
Leeds and Aberdeen City also home to wealthy individuals
Across the UK, Edinburgh comes 11th of 391 local areas with 1,600 individuals earning £250k+ and Cheshire comes in 19th with 1,000.
The list features other areas outside of London and the South East where high-earners live, including:
• Leeds, a major centre of law and accountancy firms, has 600 high-earners

• Aberdeen City, Scotland's take on Houston and home to super high paid workers from the North Sea oil and gas industry, as well as senior managers from a number of independent oil and gas companies, has 500 high-earners
However, the list of UK areas with wealthy individuals is still dominated by London. These figures show the concentration of wealth around the UK and highlight the North-South. Accessing higher-yielding investments has become even more important factor in helping to bridge the gap
By investing a portion of earnings in a higher-yielding asset, those who live outside the capital can help bridge the wealth gap. For high-earners this can be done through easyMoney's High-Net Worth Account which offers returns of up to 7.01% for a minimum investment of £100k. A minimum investment of £1,000,000 gives investors access to the Professional Investor Account, with target returns of 3.67-8% p.a.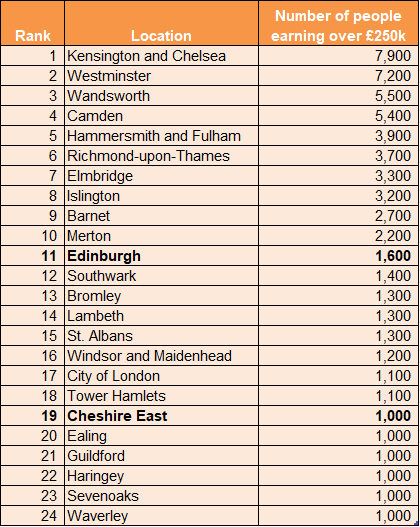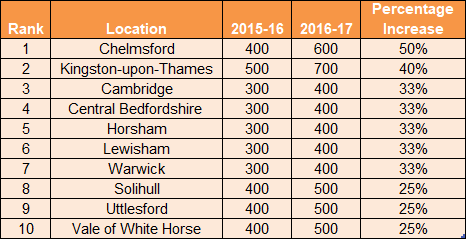 easyMoney is not a cash savings account. You may not get back the full amount you put in. Your capital is at risk if you invest. Peer-to-peer investments are eligible for an Innovative Finance ISA which is not a Cash ISA. They are not protected by the Financial Services Compensation Scheme (FSCS). Money invested through easyMoney is concentrated in property and could be affected by market conditions. For the same reason, instant access cannot be guaranteed. We do not offer investment or tax advice.
easyMoney is the trading name of E-money Capital Ltd, a company incorporated in England & Wales. Registered office is 5 Fleet Place, London, England, EC4M 7RD (Company No. 04861007). E-money Capital Ltd is authorised and regulated by the Financial Conduct Authority (FCA) #231680.